Apply for a Business account online without need for travel and in approximately 5 to 10 business days you can start sending international transfers. 
To speed up the registration process, follow the step by step process explained below. 
STEP 1.

Register a FREE Private Account
To open a Business account, the registered owner needs to register a FREE Private account.
Start by clicking the 'Sign up' button on the Octopus Pays main page. Next after entering an email address and a secure password, you will be forwarded to complete the Know-Your-Customer verification process.  
The registered owner of the company should complete the verification process by submitting Personal documents such as: 
1) a photocopy of a personal ID document (Passport or National ID card), 
2) a readable photo of yourself holding the previously uploaded personal ID document,  
3) a photocopy of a recent utility bill (The document should clearly state your name and address. We accept only gas, water, electricity, communal service bill or landline phone bill – not older than 3 months),  
4) a valid mobile phone number. 
Once you have received a confirmation email of successfully completing KYC, you will receive your temporary login details in two separate emails.
Please write down your USER ID (8-digit number) that you will need for:
1) logging in both your Private and Business accounts;
2) identifying incoming payment to your account (this should be shared with the sender to input in the payment purpose field).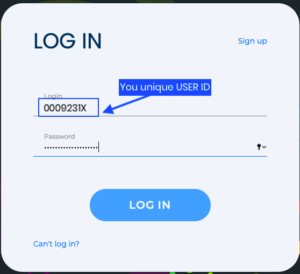 After logging in with you new credentials and changing the password, go to the top menu and click the 'Message" icon on the right side.
Here you will receive a message from our team to complete the AML questionnaire.


From this step forward all important communication with Octopus Pays will be done via the internal message centre.
STEP 2.

Submit Company Verification Documents
Providing details about your business
After completing Private KYC, the owner should request a Business account registration by sending a message via Private account's message centre. The request message should include company name, registered company email address and phone number, as well as company details for issuing an invoice.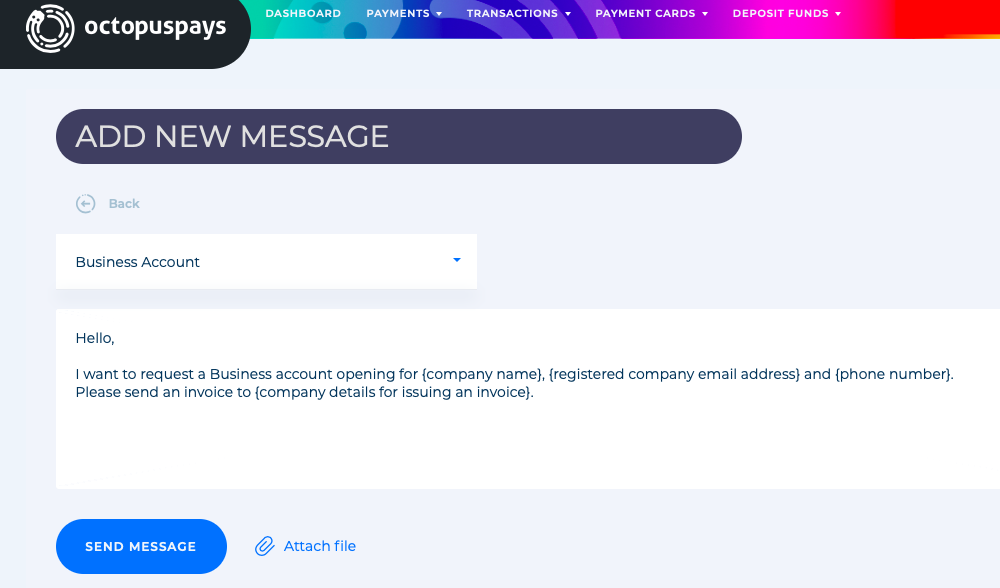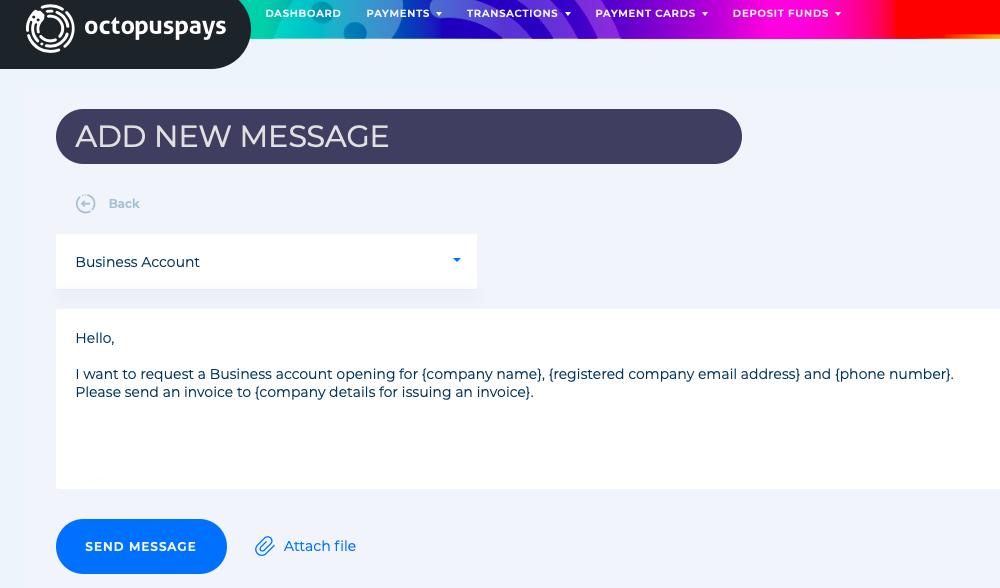 After receiving the above data, we will issue an invoice for document verification fee (100.00 Euros) that is non-refundable. 
Next, when the verification fee has been received, the client will get instructions on company's KYC/AML requirements via an internal message. The verification documents depend on you business type, country and others factors. 
NB! Once the company's documents have been verified, the Business account's EUR SEPA will be activated for receiving the setup fee. Therefore, the monthly subscription fee will be billed on the following first day of month.
STEP 3.

Payment of Setup Fees
After company's documentation has been verified, the client will be requested to settle the Business account setup fee by depositing the sum to their Business account's EUR SEPA balance.
Once the payment has been settled, the client will receive a welcome confirmation message for the new Business account with active EUR (SEPA), EUR (SWIFT), USD accounts.
Please note:
NB! To access Business account, first login with your USER ID to your Private account and then switch in the top menu to your Business account!
FAQ

Frequently Asked Questions
How long does it take until I can start sending international payments? 
The time period between signing up and being able to execute money transfers takes less than a week usually. The complete onboarding process with estimated completion time is described below.  
Step 1. The company owner's KYC process, if successful, takes less than 24 hours, 
Step 2. After submitting the Business Account application form and requested documents it takes around 5 to 10 working days to receive login information. 
Can I open multiple Business Accounts?
To open an additional Business account belonging to the same registered owner who has a Private account with Octopus Pays – the owner should send a new request for opening a Business account via the internal message centre.
The request message should include an email address unique to the particular Business account, company's name and phone number, as well as company details for issuing an invoice. 
After completing company's KYC process and settling all the setup fees, a new Business account will be added to the Private account.
All Business accounts can be accessed by login into the same Private account and switching to the particular Business dashboard via the top menu profile drop-down.
Why we need to verify you?
Due to compliance to Anti-Money Laundering (AML) and Countering the Financing of Terrorism regulations it is mandatory for anyone wishing to open an Octopus Pays account to complete the Know-Your-Customer (KYC) procedure.
Please refer to our FAQ section here for any other enquiries you might have.